Interblock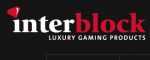 Casino operators worldwide know Interblock® as a leading developer and supplier of luxury electronic table gaming products. Our multi-player gaming devices continually set industry standards and provide the ultimate in luxury interactive entertainment experiences for our customers' players.
The company's brand is globally recognized for diamond-quality gaming solutions and technical support in more than 130 jurisdictions. Our exclusive collection of fully and semi-automated electronic gaming tables and video gaming solutions provide casinos, racinos, arcades and gambling halls with superior product performance and provide their guests with a one-of-a-kind and unforgettable gaming experience.
In 2014, their parent company was renamed INTERBLOCK d.d. (formerly Elektroncek d.d.). The parent company is located in Slovenia, home to the company's R&D department and primary productions facilities. Subsidiary companies Interblock USA LC, -Asia and -Casino Products Canada operate as distributors of Interblock® gaming devices for designated markets, and the USA branch is the distributor for Interblock® gaming devices across the United States.
Interblock is committed to the development of high-quality gaming machines with a premium appearance and world-class customer service that builds lifelong customer relationships.
At Interblock, their vision is to be the leading supplier of electronic table games around the world and provide their customers with the highest levels of innovation, service, technology and products to enable them to remain competitive within an ever-changing market.
Send Message to listing owner
Interblock