Spec International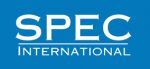 Business Description:
Spec International, Inc. has been designing, manufacturing and assembling metal gaming cabinets for 25 years in the Casino, Arcade and Redemption markets.
They believe that their customer's needs must be anticipated in order to deliver to them the advantages they need.
Even though they have perfected their designs and manufacturing processes and patented several of them, ensuring unique and attractive products, we never lost sight of the importance of cost. Delivering the lowest cost products with the latest features and quality, assures that Spec delivers the value necessary to sustain their leading edge in todays and the future marketplace worldwide.
They complement their extraordinary products with exceptional customer service. From "Art to Part" Spec's industrial campus, along with their domestic supply partners in the west Michigan region have the resources and proven experience to deliver the advantages that their customer's need and deserve. Whether it's a specific component or a complete "Ready to Play" machine, please contact them and allow Spec International the opportunity to serve you and deliver to you the exceptional value and service experience you deserve.
Send Message to listing owner
Listing Title: Spec International