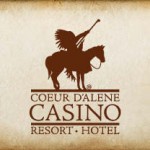 Description
Their story is relatively brief in the world of gaming and resort development, having begun in March 1993. Yet, their story is timeless in the world of traditional Indian hospitality. It is hospitality, you see, that has nurtured their relationships with guests since that small bingo operation was first introduced to their friends there in the Inland Northwest. "We made our first visit when you first opened the bingo hall," wrote one regular customer. "After more than a decade, we are still coming and enjoying all that your facility offers, especially the employees. We still see many of the same faces that were there in the beginning and we very much appreciate the genuine friendliness of your staff. You are not like other casinos."
The Coeur d'Alene Tribe has a grand legacy of taking care of its own and helping its neighbors. That, too, has been central through six expansions, creating 300 luxury hotel rooms and over 100,000 square feet of gaming space. Our Circling Raven Golf Club is renowned as one of the finest new golf challenges in the region, the nation and the world.
Their 60,000 square foot casino floor features over 1,600 slots, video blackjack, bingo and off-track betting. Join their Coyote Rewards Club today and reap the benefits of playing with them. And, with the highest payout percentage in the Northwest, you'll certainly enjoy the odds.

Description
Fort Hall Casino is Southeast Idaho's only gaming facility where you will find fast action fun, high energy excitement and the friendliest gaming atmosphere in Idaho. Over 900 of the most popular video gaming machines along with video poker can be found at Fort Hall Casino. Popular game themes include: Sweet Liberty, Game King, Monopoly, Penny Train, Fort Knox, PLUS new virtual Blackjack where up to five players can play at a time with a virtual dealer! Fort Hall Casino is a sure bet to non-stop gaming entertainment 24 hours a day!
The High Limit Area is a place where players can feel comfortable without any pressure or hassles. They can spend what they want how they want.
48 machines can be found in the High Limit Area, and the featured games are Rawhide, Rising Fortunes, and Rapa Nui Riches.
Machine denominations are $1.00 to $5.00 for all machines up to $50.00 a spin.

Description
Best Western Plus Kootenai River Inn Casino & Spa is owned and operated by the Kootenai Tribe of Idaho. The hotel, restaurant and recreation center opened in 1986 on the tribal lands that overlook the Kootenai River, beginning an economic resurgence for the tribe.
In 1996, the tribe signed a gaming compact with the State of Idaho and opened the Kootenai Casino. In 2005, a complete renovation transformed the facility interiors and added the luxury spa. The Kootenai Tribe, led by Tribal Chair Jennifer Porter, authorized an even bigger investment with construction of Kootenai Falls Lodge, a 36 Guest room expansion that opened in May of 2013. Today, the facility is a symbol of pride for Tribal members, as well as an economic boon.
The success of the Best Western Plus Kootenai River Inn Casino & Spa enables students of the Kootenai Tribe to pursue higher education and career goals. It also enables the tribe to fund education and community projects in the region.