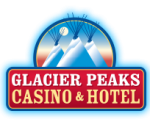 Description
Glacier Peaks Casino is proud to host Montana's largest and most exciting selection of slot machines. They have more than 300 slot and video poker machines with payouts that are consistently among the highest in Montana. They have an outstanding variety of popular favorites along with all the newest specialty games. You can play for many different amounts, from one cent to $100.00.
If poker is your game, Glacier Peaks Casino's Ace's High Poker Room has a table waiting for you. Choose from Texas Hold'em, Omaha Hi/Lo, 7 Card, Tahoe and Super Hold'em.
Whether you are an experienced player, or just starting your first adventure in poker, you will feel welcome and comfortable in the Glacier Peak's Ace's High Poker Room.
Come join them for a fast paced game of Bingo. Glacier Peaks Casino offers Bingo on Wednesday, Thursday and Friday evenings. Stop by and join in on the fun and winning.
They host Montana's largest and most exciting linked progressive jackpots. With over 300 slot machines, you could walk away with hundreds of thousands of dollars on Rocket, Cadillac Jack, and VGT Gaming.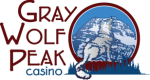 Description
Gray Wolf Peak's Staff is here to ensure you the greatest gaming experience in Montana. They want to provide you with the finest customer service and welcoming environment possible. Gray Wolf will strive to make your experience unforgettable. They offer 120 state of the art games with all your favorite game titles! When it comes to winning huge jackpots, no place is better than Gray Wolf Peak Casino. From Million dollar progressives to Penny machines they have the latest and hottest game titles in the region. Raise your Gaming experience to new heights at Gray Wolf Peak Casino, where the winners play.

Description
Owners Dennis and Jessie Benson are committed to making your visit to The Warden's Casino comfortable and enjoyable. As former correctional facility wardens, the two have decades of experience running facilities efficiently and effectively. They pride themselves on providing Billings residents a clean, comfortable, state-of-the-art gaming facility. You can trust that Dennis and Jessie provide a safe environment for you to enjoy a number of games that are legal in the Montana area.
If you simply want to spend an afternoon out of the house enjoying some casual gambling, The Warden's Casino provides exactly what you need. Their friendly staff and convenient location make their casino a wonderful place to spend some time away from home.