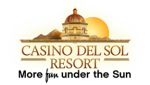 Description
Casino Del Sol is southern Arizona's premier entertainment and gaming destination. It offers offers nearly 1,000 slot machines, live blackjack, poker and bingo. Guests can choose from six restaurants and three bars that feature live entertainment from Thursday to Saturday nights, in addition to world-class entertainment at AVA Amphitheater.
Looking for big gaming excitement and even bigger paydays? Casino Del Sol Resort is your casino in Tucson, Arizona with more than 1,300 of the most popular slots and video poker machines; a great variety of live-action table games with the friendliest dealers; daily, weekly, and monthly poker tournaments; and some of the largest bingo jackpots in the Southwest.
This is where great entertainment happens. Casino Del Sol Resort brings you some of the world's best live acts at AVA Amphitheater—one of the most renowned and beautiful entertainment venues in southern Arizona. Casino Del Sol Resort also offers a relaxing environment with six unique and comfortable lounges where you're free to unwind with great friends and your favorite cocktails.
When it comes to great Tucson, Arizona restaurants, Casino Del Sol Resort offers more than 10 where you can sink your teeth into something tasty—ranging from exceptional dining to quick and casual. At the top of the list is our Forbes Four-Star and Wine Spectator award-winning PY Steakhouse offering the finest steaks, seafood, and wines.
Transcending beyond the treatments offered, the Hiapsi Spa and Fitness Center believes true healing comes with balancing physical health, emotional well-being, and spiritual renewal. The experience at Hiapsi Spa in Tucson takes you on just that journey. Hiapsi is the Pascua Yaqui word for "heart and soul," and nowhere else will you have an opportunity to refresh yours with what will be a truly unique menu of services and treatments.

Description
Desert Diamond Casinos & Entertainment offers a convenient, memorable entertainment experience in Tucson. Amenities include unmatched gaming options, fine dining, the Monsoon Nightclub and world-class sporting events, music concerts and comedy sets at the Diamond Center.
Desert Diamond Casinos is the place to feel lucky and get treated like everyone's best friend the moment you walk through the door!
The party features an exhilarating mix of world-class gaming, exquisite dining experiences and big name entertainment! Find us in Tucson, Sahuarita, and Why, Arizona or visit our brand new West Valley casino! Desert Diamond Casinos recently celebrated its 30th Anniversary. We're looking forward to the next 30 years and beyond the only way we know how – by delivering the excitement you crave and the unwinding you deserve!
Desert Diamond Casinos is an Enterprise of the Tohono O'odham Nation, investing into its own tribal enterprises to foster economic development while simultaneously maintaining control over the enterprises' impacts on the environment, natural resources, and tribal cultural values. The Nation's enterprises provide much of the financial resources needed to manage day-to-day government operations as well as a full governmental infrastructure. The Nation encourages economic development and has micro-loan organizations that provide assistance to tribal members who have business plans intended to contribute to the Tohono O'odham Nation's growing self-sustainability. The popularity of the gaming industry has provided the capital necessary to attempt other forms of economic development, and the Nation has been quite successful.
Experience the possibilities!