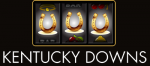 Description
Kentucky Downs offers exotic wagering on historic horse racing at nearly 500 Encore terminals. A total of 31 different pari-mutuel wagers are offered, each of which are based on the RCI Model Rule 004-105T. The object of the game is to correctly predict the finishing position of as many of the horses from three historical horse races, where the number of correctly predicted finishers determines the prize to be awarded. Handicapping statistics are provided to patrons to help them make their decisions, similar to live horse racing. At the conclusion of each race, patrons are provided with race charts that include information on the finish order, a computer enhanced video replay, as well as a will-pay screen indicating their respective prize.
Pari-mutuel wagers
A pari-mutuel wager allows the patrons to wager between each other rather than against the house. Wagers are combined in a collective "pool." The track deducts a set percentage from the pool and the remaining balance of the pool is dispersed back to the patrons who place winning wagers.
History
When dueling was no longer legal in Kentucky, the 260-acre "dueling grounds" had more conventional agricultural uses until a group of investors acquired the property in the 1980s to develop a unique "turf only" race track to host Steeplechase races.
That vision came to life when a 1 and 5/16 mile race course and a colonial-style clubhouse opened for business on April 22, 1990. The race track was named Dueling Grounds in recognition of the colorful history associated with the property.
The race track operated as Dueling Grounds until 1998, when new owners renamed the track Kentucky Downs. In 2007, a group of investors led by Nashville businessman Ray Reid and former Lone Star Park president Corey Johnsen purchased a majority interest in Kentucky Downs with a vision for expanding the scope of its operations in the future.
Today, Kentucky Downs conducts its live turf racing meet each September on the only "European-style" race course in North America. The meet is staged in an informal festival setting and features the annual running of the Grade III Kentucky Turf Cup race. Additionally, Kentucky Downs offers year-round simulcasting, serves as the site for numerous special and entertainment events and hosts charity Bingo for a number of community-based organizations in Franklin and Simpson County.