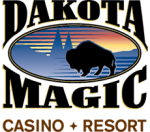 Description
Come enjoy a fabulous chance to play over 900 slot machines in addition to table games such as roulette, blackjack, craps, and poker, all under one roof. Just off Interstate 29, Dakota Magic Casino also offers golf, a hotel, three delicious restaurants, and an entertaining lounge, where visitors can grab a drink while dancing the night away to fabulous music.
Tired of breathing in smoke – filled air? No problem! This North Dakota casino offers an entire room dedicated to non – smoking play. This special room is open 24 hours a day and features more than 70 machines for those who prefer a smoke free atmosphere.
This casino in North Dakota also offers a popular Magic Players Club, where players can get great rewards, such as cash, merchandise, or even free hotel stays just by using their special membership cards. Membership also offers other benefits, including participation in special membership events, monthly rewards, promotions, and more. Participating in the club is easy, and what could be better than receiving rewards for playing the favorite casino games?
This rural casino hotel is on the Lake Traverse Indian Reservation, adjacent to Interstate 29 on the North Dakota/South Dakota border.
The straightforward rooms all include air-conditioning, cable TV and coffeemakers. Upgraded rooms add whirlpool tubs. Suites add kitchens and dining areas and/or living areas with pull-out sofas.
There's an exercise center and a convenience store, as well as on-site buffet and grill restaurants, and a lounge bar hosting live entertainment. There are also 9- and 18-hole golf courses (fee) and expansive conference facilities.