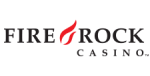 Description
Named after the beautiful sulfur rocks that illuminate with a burning flame, Fire Rock Casino was the first of many gaming locations within the Navajo Nation. After opening its doors in November of 2008, it quickly became clear that Fire Rock Casino was just the getaway that New Mexico needed.
Surrounded by the beautiful Red Rock State Park on Historic Route 66, Fire Rock Casino provides a picturesque view that is a must-see for tourists and locals alike.
Stunning art and architecture combine to both symbolize and showcase the rich history of the Navajo people while providing a gaming experience unlike anywhere else.
Fire Rock offers the latest and hottest games around as well as a proud and helpful staff to make sure every request is tended to.
Stop by today to see why everyone is talking about Fire Rock Casino!
Fire Rock Navajo Casino is a Navajo casino located in the town of Church Rock, New Mexico, on Historic Route 66. The Fire Rock Navajo Casino opened on November 19, 2008. The casino is operated by the Navajo Nation Gaming Enterprise (NNGE) which oversees all gaming activity for the Navajo Nation.
The Fire Rock Navajo Casino has approximately 900 slot machines, 1 Roulette Table, 7 Blackjack Tables. In addition, it offers a restaurant, gift/smoke shop, and a player's club.