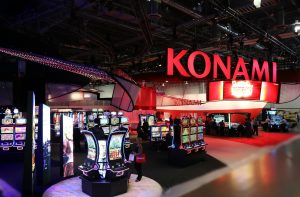 Konami Gaming, Inc. debuts a milestone lineup of emerging game technology this week at the 2016 Global Gaming Expo (G2E) in Las Vegas, including never-before seen skill-based, multi-station, core, and premium slots. More than 26,000 G2E attendees have first-hand access to Castlevania™ themed slots, Crystal Cyclone™ multi-station progressive, Fortune Cup™ video-mechanical horse racing, Frogger: Get Hoppin'™ skill-based game, and Beat Square™ DJ-style skill-based game—all with clear roots to Konami's popular video arcade and amusement heritage. This expanded product portfolio, along with casino core product innovations, systems technology updates, iGaming solutions, and more are showcased at Konami Booth #1154 for guests to see and explore.
"With everything including skill-based, multi-station, premium IP, horse racing, and top-performing core, Konami is supporting the industry with an unprecedented diversity of gaming technology to advance both the immediate and long-term casino landscape " said Matt Reback, vice president, marketing at Konami. "Industry response to the expanding Concerto collection and these incredible new concepts has been outstanding. Our casino customers have expressed interest in an expanded lineup of core products as well as innovative next generation products, and our R&D team has brought these latest developments to life with the quality and creativity that Konami is known for in the industry."
Konami is presenting three skill-based concepts to the industry: a music-infused Frogger road and river crossing game called Frogger: Get Hoppin', a rhythmic DJ-style game called Beat Square, and a skill-stop VIP premium game called Hot Press Winnings™. Two new multi-station games are also arriving at G2E Las Vegas for the first time. The first is a horse racing game called Fortune Cup that uniquely combines mechanical detail with engaging customer interaction through an intuitive touchscreen interface. The second is a multi-station progressive called Crystal Cyclone with a colorful, high-energy center mechanical bonus game that can simultaneously bring all players into the bonus action jackpot.
"Konami's core gaming roots hold firm in entertainment, amusement, and arcades. The technology and development resources we have in America, Australia, and Japan are best-of-breed, and we're thrilled to be able to bring those advancements to the casino gaming realm in new ways during this year's G2E," said Reback. "Konami has the core creative power to bring new variations of gambling entertainment to the market so our casino customers can offer their diverse player groups an array of gaming options."
Also stemming from its strong digital gaming entertainment heritage, Konami's Castlevania is making a debut landing at G2E 2016 on the all new Concerto Crescent™ curved cabinet—one among several machines featured in the Concerto collection. "Castlevania signals another iconic Konami IP release that we're thrilled to bring to casinos around the world, with a truly captivating delivery on Concerto Crescent's high-definition display," said Reback. "It's a powerful demonstration of Konami's continued strength in creative game animation, bonus effects, and play mechanics, across our robust core product library."
Konami's award-winning SYNKROS™ casino management system is showcasing several leading advancements including SYNKROS Dashboards™ and SYNKROS Offers Management™. Developed seamlessly with the SYNKROS systems environment, SYNKROS Dashboards provides the most robust data revelation and business intelligence to identify patterns, trends, and actionable insights across all areas of operation. SYNKROS Offers Management is also backed by a variety of data point connections, which power multiple customer loyalty offers to individual players across a strategic mix of linked notification methods. These features and more are on display throughout the show through Konami's comprehensive SYNKROS demo environment.